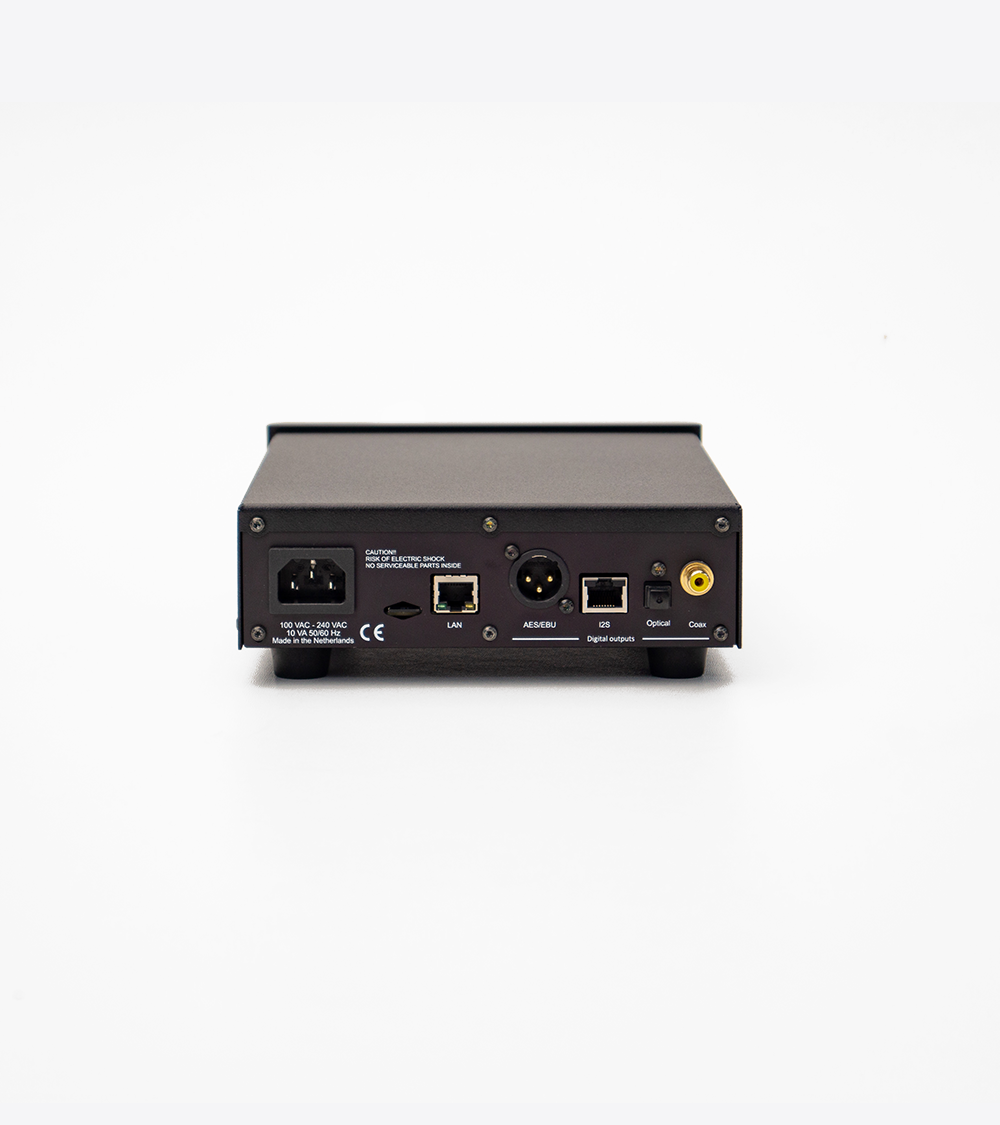  
Metrum Ambre™
Stream bit perfect digital audio with the Metrum Acoustics Ambre. ROON certified. Works with services like Qobuz or Volumio.
The AMBRE out of the box comes as a ROON certified digital end point. however because of its architecture it is also capable of running different platforms such as DietPi and PiCorePlayer. This allows for even more possibilities such as playing Qobuz or Logitech Media Server content, or even being discovered in a network using UPnP.
At Metrum Acoustics we do not believe in taking prisoners, hence the choice to provide our clients with an open platform. Using our AMBRE, a client could swap the SD card installed, and open up a whole new world with content from different providers, such as Qobuz. Adding web radio and play it throughout your house, office, wherever you wish to enjoy music, installing Logitech Media Server might be the solution. As for warranty we are OK with you choosing freedom, however as long as the changes apply to the software. Once the hardware is being manipulated, warranty is voided.
The AMBRE comes with I2S and other outputs like AES/EBU, Spdif and Toslink. The AMBRE Endpoint is a great addition to any audiophile setup because of its high quality components The hardware platform in AMBRE enables you to stream high res music files from network attached storage, online streaming services through the powerful ROON platform, outputting bit perfect audio direct to your DAC.
30 VA toroidal transformer, 110/115V AC 220/230V AC 60/50Hz
Dimensions 240 x 190 x 60 mm, Weight 2.5KG
LAN (local area network) input: Connect an UTP cable with your local network. The Ambre is made from factory as a Roon end point, contact customer service if you'd like another streaming service installed by us.
Coaxial Output: A 75 Ohm coaxial cable should be used to connect the Ambre to other digital audio equipment like a DAC for instance. The coaxial output has a galvanic isolation and can handle a maximum sample rate of 192 kHz.
AES/EBU digital output: When using the AES/EBU digital output a 110 Ohms XLR cable should be used to connect the Ambre to other digital audio equipment. The AES/EBU interface has a galvanic isolation and can handle a maximum sampling rate of 192 kHz.
Optical output: A standard Toslink cable can be used to connect the Ambre to other digital audio equipment. The max sampling rate of the Toslink interface is limited to 96kHz.
I2S output: The I2S connection is the best way to connect digital audio equipment over short distances without interference. However still I2S is no international standard in terms of ruggedizing the format or the connectors used. The I2S standard is optimized as an interconnection between Metrum Acoustics products but will work in most cases in conjunction with other gear. If your Metrum Acoustics DAC has the I2S option installed you can use a simple UTP cable to connect both devices!


Non EU? Tax will be excluded after entering delivery address on checkout.
Customers who bought this product: